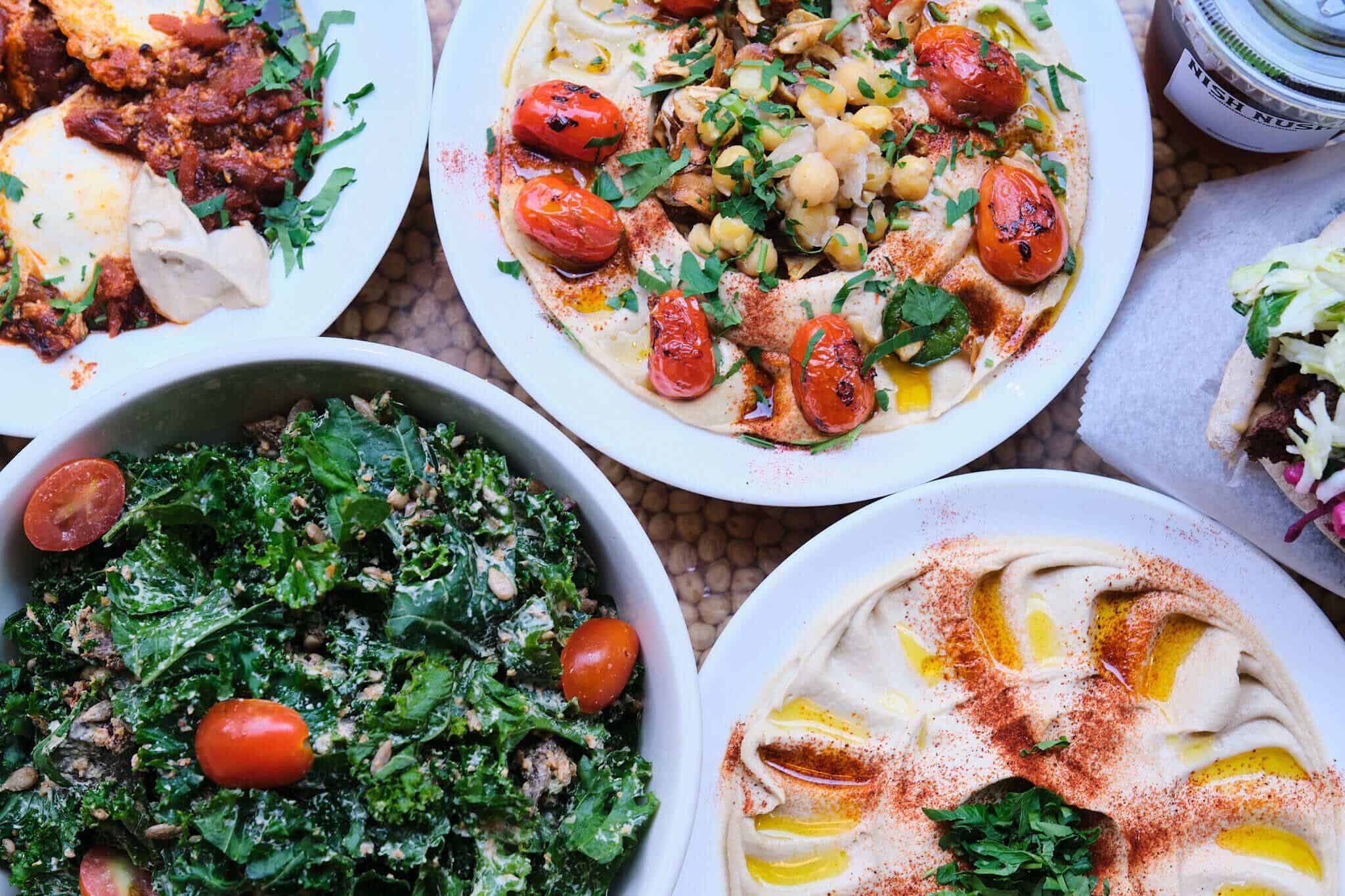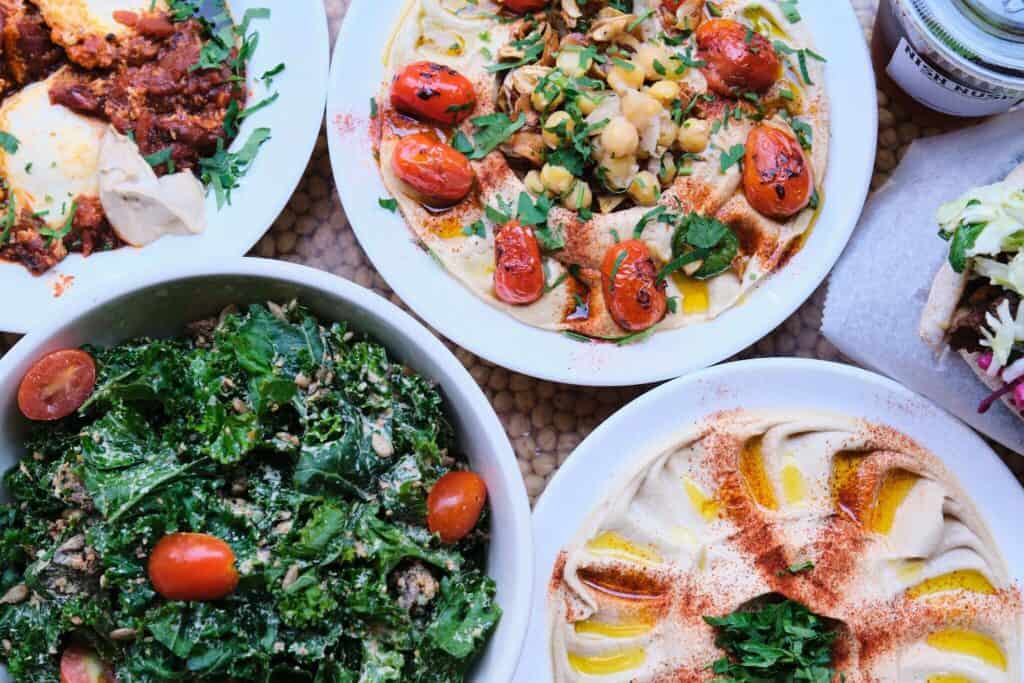 It's hard to find a conversation about health that doesn't quickly become about food. For years now, healthy eating has been creeping higher and higher on our collective to-do list. We all want to take better care of ourselves, even though at times it can be difficult. Healthy food was once seen as the dull and unappealing option, but the culinary winds have changed. Rather than putting ourselves on restrictive diets, these days we make the food we love healthier instead.
Don't be fooled by greasy shawarma stands: Middle Eastern cuisine is one of the healthiest in the world. Almost every dish combines lean proteins, healthy fats, vegetables, and grains for a balanced, filling meal. Not to mention tasty!
At Nish Nush, we take the Middle Eastern flavors you know and upgrade them with a modern, healthy twist. Everything on our menu has been crafted with care, right down to the desserts. Our vegan options are off the charts, and many of our dishes are also gluten-free. When looking for the best restaurants in the NYC Financial District, don't waste time with endless searching – join us for a delicious, healthy meal at Nish Nush.
Menu Options for Everyone
Whether you're planning to get some lunch to go or meet for an after-work dinner, navigating preferences and dietary requirements can be a bit of a minefield. Situated on John Street, between Nassau Street and William Street, our Financial District restaurant is the perfect place to please the whole team.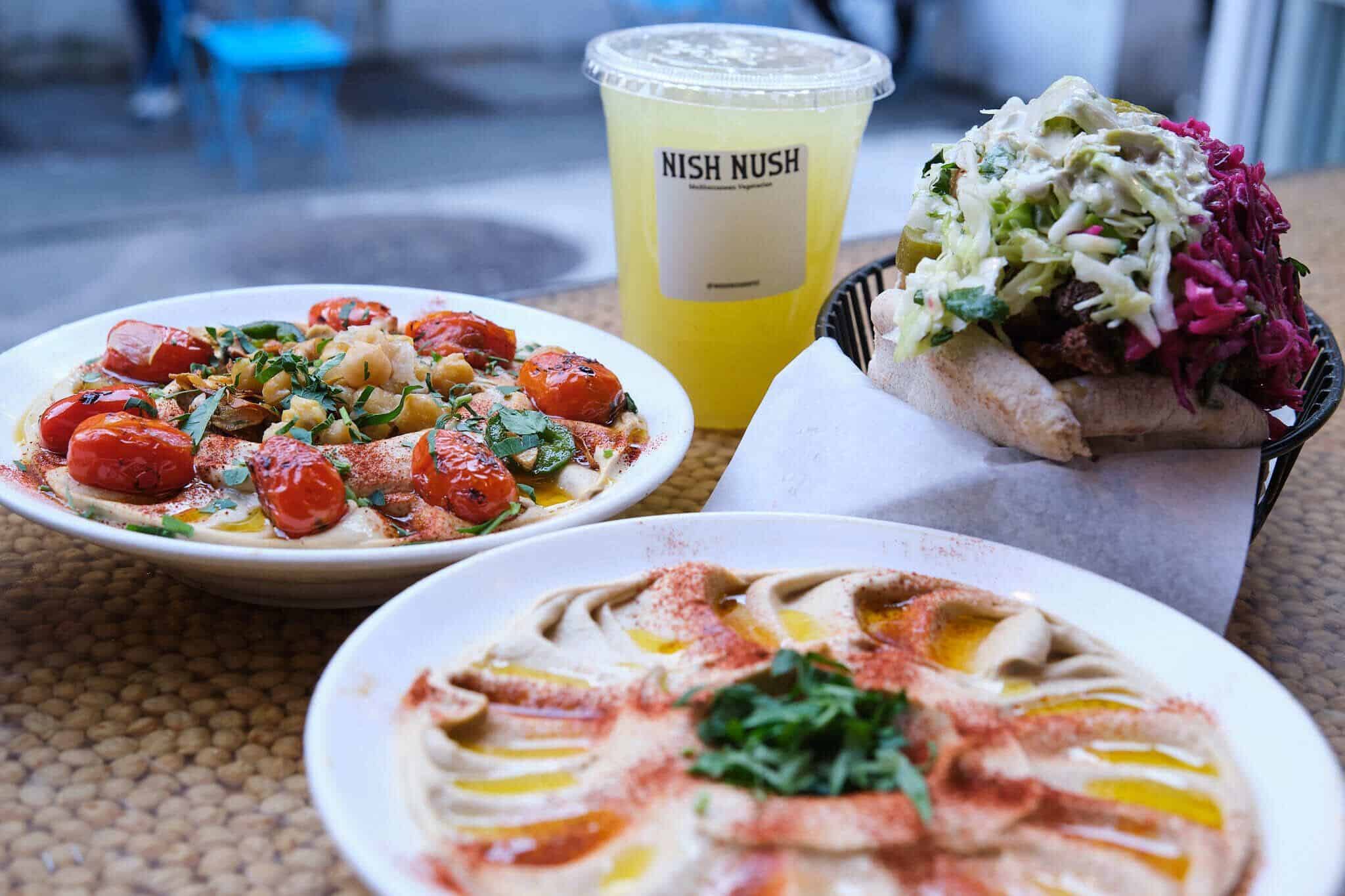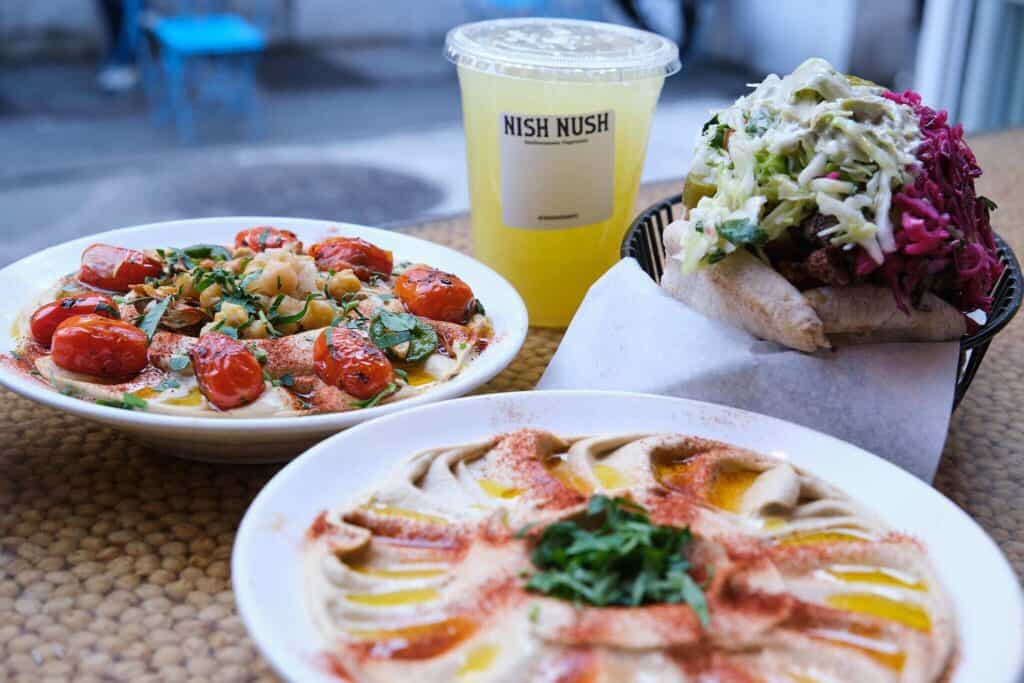 If you're into sharing or just indecisive, get some maza for the table. This assortment of finger foods is the best way for everyone to try a little of everything. From falafel and stuffed grape leaves (a favorite in the Middle East and Mediterranean, often called dolmas) to hand-cut fries and Israeli salad, whatever you choose will be a spread to remember. Our homemade falafel is both vegan and gluten-free, as are many of the maza options, so everyone can feel included.
For those looking for something lighter, we also have a range of soups and salads. Warm up with a bowl of the soup of the day with pita and Israeli croutons called shkedei marak. How about a classic Greek Salad? If you want something a little more adventurous, try the Chili Kale Salad. It packs a punch with chopped kale, sautéed balsamic mushrooms, shredded chili falafel, cherry tomatoes, and roasted sunflower seeds, all drizzled with a ginger mint tahini dressing. So good, you'll forget you're at a health food restaurant.
At Nish Nush, we love a good sandwich, especially when it's packed with a healthy variety of vegetables and Middle-Eastern flavors. At our location in the Financial District, there's a lot of demand for a lunch that's tasty, filling, and easy to eat on the go or at your desk. Even if you're not dashing to your next meeting or closing the big deal, our vibrant sandwich flavor combinations will hit the spot. Every sandwich is carefully crafted, from the freshly-baked laffa bread, pita, or bun to the final garnish.
The Chili Falafel Burger is a great pick for heat-loving folks, with a roasted pepper falafel patty, jalapenos, and our spicy Mediterranean barbecue sauce. Based on the ever-popular Israeli street food, the Sabich Sandwich is always a hit. The combination of tirshi, a Tunisian pumpkin salad, and amba, a Jewish-Indian condiment made with pickled mango, is sure to delight your taste buds.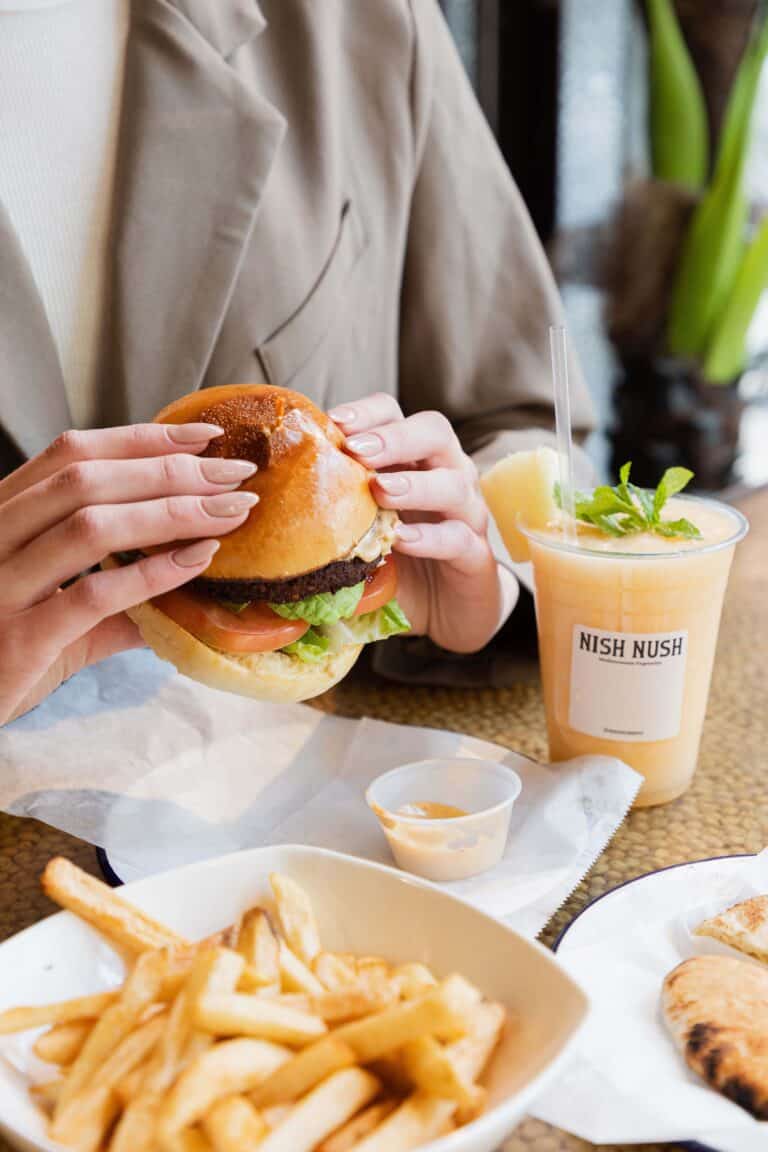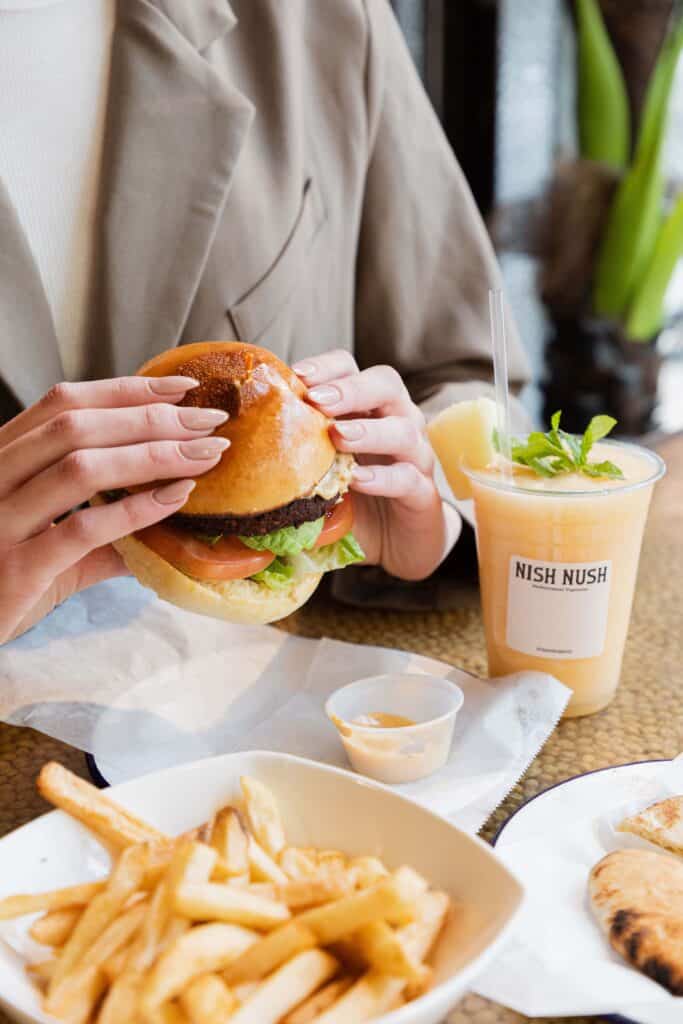 Deliciously Wholesome Grains & Proteins
The best Middle Eastern and Mediterranean food is known for its emphasis on wholesome ingredients. Every dish balances whole grains, in the form of laffa, pita, and other breads, with lean meat and vegan proteins like chickpeas. That's without even going into the colorful vegetables that are a part of every dish, both raw and cooked.
This simple truth is why we think that Nish Nush is the best kind of health food restaurant. One that puts flavor as a top priority, while still consistently delivering wholesome, healthy meals. Some health food restaurants make their brand all about being holier than thou. Our menu has something to please everyone, delivering maximum flavor by using only the highest quality ingredients.
Healthy eating is about more than just calories. It's about enjoying your food, using good-quality ingredients and know-how to elevate every meal into an experience. With our delicious menu of balanced, healthy options, you feel satisfied for longer and have the energy needed to work and play hard, New York style.
Indulge in Unforgettable Israeli Desserts
You might think dessert would be a dirty word at a health food restaurant, but that's definitely not the case. No meal is complete without a little sweet treat at the end. Sample some mixed Mediterranean sweets or treat yourself to traditional Middle-Eastern desserts like baklava and flavored halva.
If you have a sweet tooth and a love for nuts, you're going to love baklava! Picture it: layers of phyllo pastry filled with spiced nuts, sweetened with syrup or honey, and baked to crispy, flaky perfection. Delicious! Baklava varies from culture to culture, as each nation's cooks tweaked and perfected the dish for local palates and ingredients. That's why the baklava you find in a Greek restaurant might differ from our Middle Eastern baklava. Either way, it won't disappoint. There's a reason why it's one of our most popular desserts.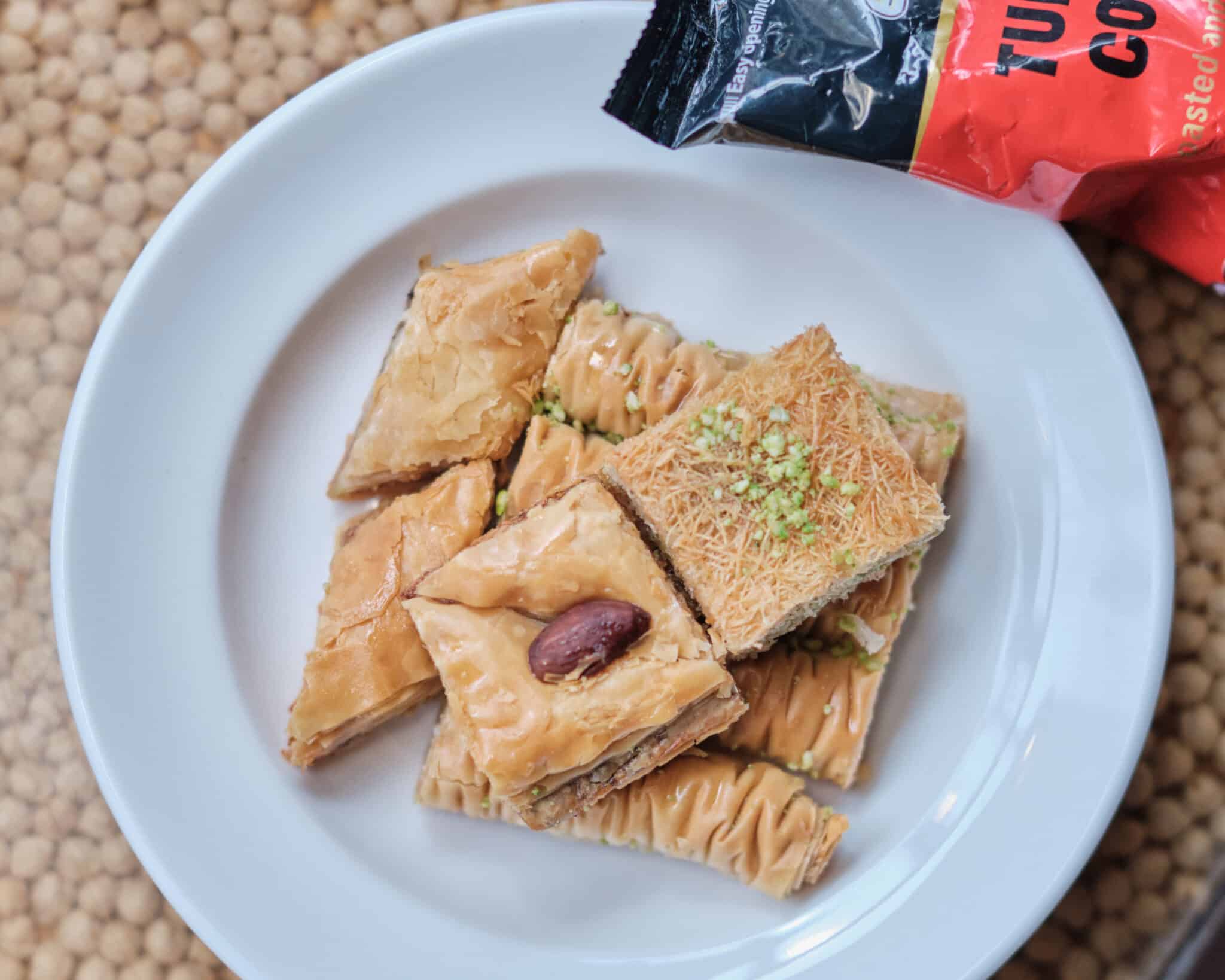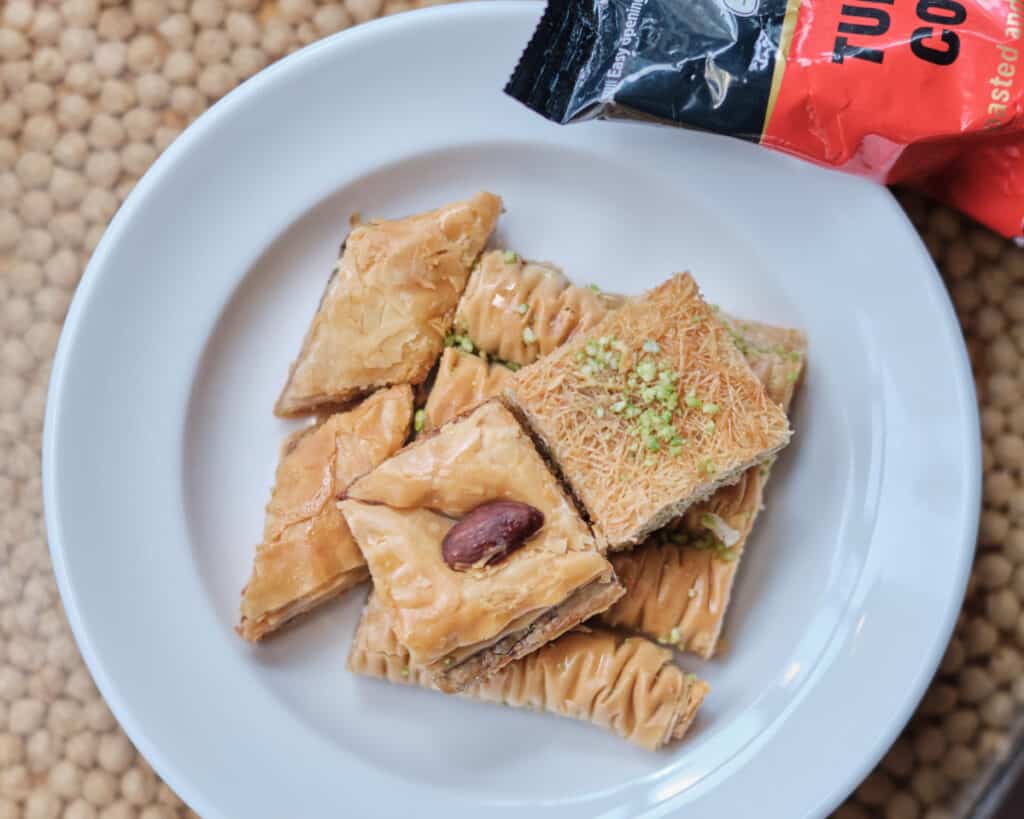 Originating from Iran, halva is a quintessentially Middle-Eastern treat. This is one for those who prefer their desserts a little richer and less sweet. Halva, which has a similar texture to fudge, is made from a mixture of tahini, spices, sugar, and nuts. These days, it can also be made using different nut butters instead of the tahini, giving it new and exciting flavors. Although it's not exactly a health food, per se, its tahini (sesame seed) base is filled with nutritious minerals like calcium and magnesium. At Nish Nush, we've created a few different types of flavored halva for you to try.
Conveniently Located With You in Mind
Having a health food restaurant nearby makes it a lot easier to make sure you make good food choices throughout the day. If that restaurant happens to be Nish Nush, brimming with mouth-watering Middle-Eastern flavors, even more so!
When it comes to finding health food in the Financial District, we have you covered all day. In fact, both of our locations were hand-picked to make sure there's always delicious healthy food nearby when you need it.
Treat Yourself to a Heavenly, Healthy Meal at Nish Nush
A short walk from the Chambers Street subway station, our FiDi restaurant is ready to brighten your day with a healthy, tasty treat. There's something on our menu for everyone. Bring your team or meet a friend – or place your order online and we'll deliver it. Go on, add a little Middle Eastern spice to your day!