Strained yogurt has quickly gained popularity in western Europe and the USA because it has a much richer texture and, to a lesser extent, a much higher protein level than unstrained yogurt. Since some of the lactose is removed during the straining process, strained yogurt has fewer sugars and carbohydrates than unstrained yogurt, which may appeal to people following low-carbohydrate diets.
What is labneh?
Labneh, a strained yogurt-based soft cheese resembling cream cheese, is commonly used in Middle Eastern cooking. It's often used in the preparation of Middle Eastern dishes. Even though it is traditionally made from cow's milk yogurt, other milk sources can also be used for its production.
For many years, labneh has been a part of traditional Lebanese cuisine because of its lightness, freshness, versatility, and delectability. It is also known as labneh, labneh, or even zabedi; here is what you need to know about this humble yet ancient food.
Labneh is regarded as a probiotic food, which means that it is abundant in a variety of good bacteria that support a healthy immune system and is a significant source of protein.
What Can Labneh Be Replaced With?
As soon as you become accustomed to the flavor and adaptability of labneh, you'll be more than willing to swap it out whenever possible. Labneh is versatile and replaced with many things, such as yogurt, cream cheese, and sour cream. Moreover, the texture of the labneh will not be different, which is good for those looking to substitute it.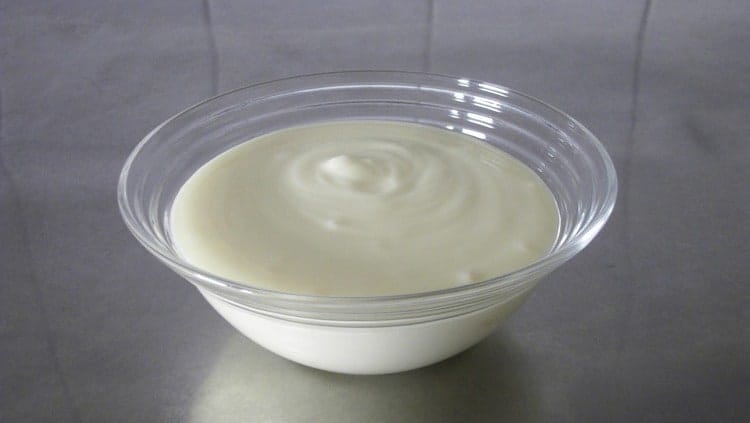 What Is Tzatziki?
Tzatziki is a Greek dip made with yogurt, cucumber slices, garlic, and dill, finished with oregano, salt, and pepper. It is best enjoyed with souvlaki meat, pita bread, and olives. Fresh herbs like dill and mint are also used. It's traditionally made from strained sheep or goat's milk yogurt, but a full-fat Greek yogurt will work fine in this dip.
Health benefits associated with tzatziki include a high mineral and vitamin content and a low carbohydrate, fat, and calorie content.
What Can Tzatziki Be Replaced With?
The flavor profile of classic hummus is similar to tzatziki. Tahini is usually used to make tarator, a Lebanese-style dip with a tahini component. Garlic and olive oil have a significant role in the flavor profile. The hummus has a thick, creamy mouthfeel and is rich in texture and flavor.
Traditionally, hummus is used the same way as a dip or spread for vegetables, just like tzatziki is used for meats and fish. You can serve it with a pita or add it to your gyros as a topping. You will likely find premade hummus more easily than premade tzatziki in many parts of the world.
Other Alternatives
In much the same way that tzatziki was initially used as a cooling condiment, ranch dressing is commonly used in similar ways. Buttermilk and mayonnaise are the classic ingredients of ranch dressing; sour cream may be used instead.
You can tell that the resulting sauce has the creaminess and tartness you associate with tzatziki. Some versions of the dish include garlic, parsley, and other seasonings in modest amounts. One of the benefits of ranch dressing is it's easier availability in North America than premade tzatziki.
There is no substitute for tzatziki for providing the same kind of mouthfeel and taste that ranch dressing can offer. As a result, it would be inappropriate to dip it in your gyros and kebabs, but if you want to dip your vegetables in it, it would be a great choice.
Is Labneh a Mediterranean Cuisine?
Labneh is a popular condiment in Mediterranean cuisine with a similar consistency to whipped cream cheese regarding its texture. The majority of people with Middle Eastern ancestry are accustomed to eating labneh for breakfast or as a snack.
How Is Tzatziki Served?
Tzatziki is typically served from a bowl, so everyone can slather it on whatever is done. This condiment is full of flavor and an excellent ingredient for burgers, potato salads, and chicken salads. It is a great alternative to mayonnaise in a sandwich, burger, potato salad, or chicken salad, so you should use this in place of mayonnaise.
Alternatively, you can slather it on delicious Mediterranean sandwiches. Tzatziki is fantastic and goes well with almost anything. As one of the city's Mediterranean restaurants, Nish Nush offers a variety of Mediterranean cuisine and unique vegan options that cannot be found at any other restaurant.
The menu at Nish Nush includes special shawarma, falafel sandwiches, hummus plates, and several maza dishes. Our chefs prepare each meal with fresh ingredients to make it one of the best vegan restaurants in NYC.