Food enthusiasts love eating their falafel in warm pita sandwiches with hummus or tahini sauce, as an accompaniment with Mediterranean cucumber and tomato salad, or as part of a mezze spread. Regardless of the combination you choose to have it with, Falafel's crispy outside, tender inside, and tantalizing spicy taste succeed in giving you a heavenly food experience.
Falafel is a popular fast food around the world with its roots in the Middle East. In countries such as Lebanon, Syria, Turkey, Israel, and Egypt, vendors sell it on street corners as a delicacy, and five-star hotels serve it as Mediterranean cuisine. Let's learn more about this vegan-friendly food and give you the simplest recipe to make at home.
What is Falafel Made Of?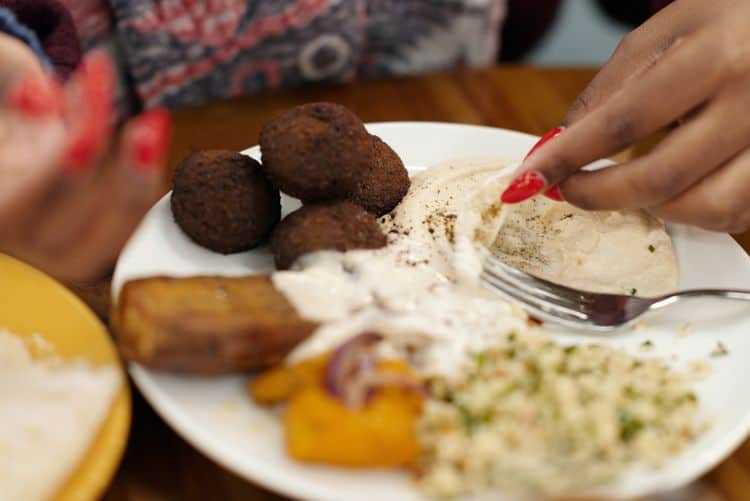 Falafel is a deep-fried patty or ball made of mashed chickpeas, fava beans, or a combination of the two. Fresh herbs, aromatics, and spices are added to the mixture to give it a mild to moderate soul-satisfying flavor. The table below gives examples of the ingredients you can use to make your falafel.
| | | |
| --- | --- | --- |
| Herbs | Spices | Aromatics |
| Cilantro | Coriander | Garlic |
| Dill | Cayenne | Shallots |
| Parsley | Cumin | Onions |
| Mint | Cardamon | |
Some recipes recommend adding baking powder to give it a tender, fluffy interior and prevent it from being dense. Experienced chefs also add legumes and nuts to give it a unique palate-pleasing taste.
Learn more about falafel nutritional facts in this article.
How Do You Make Falafel?
Falafel is easy to make as it entails soaking the chickpeas, pulsing them with your favorite ingredients, and frying them. The following are the ingredients you need to make homemade falafel.
Falafel Ingredients
2 cups dried chickpeas
2 large chopped onions
2 cloves chopped garlic
4 tablespoons freshly chopped parsley
1 ½ teaspoon cumin seeds
1 ½ teaspoon coriander
1 teaspoon salt (to taste)
Pepper (optional)
5 tablespoons of flour (optional)
Oil
Here are the simplest steps of how to make falafel the Mediterranean style:
1. Soak the chick or fava peas: Put the chickpeas in a large bowl and add water till it rises a few inches above them. Soak overnight or until the peas are triple their original size.
2. Process all the ingredients: Chop the onions, add them and the chickpeas to a food processor and pulse them briefly. Next, add the spices, garlic, herbs, salt, and pepper. Pulse until the mixture is coarse—do not aim for a smooth finish.
3. Cover and refrigerate for 30 mins to 2 hours: Since this recipe uses fresh chickpeas, you can refrigerate for 30 mins only. Canned chickpeas need refrigeration for up to 2hours.
4. Form falafel balls: Scoop 1½ to 2 tablespoons and shape it into a ball with your palms. If you refrigerate it for the specified time, the balls will not fall apart as you work on them.
5. Fry the falafel: To get the best crispy results, deep fry the falafel balls in ¾-inch oil. Cook them in batches until they turn golden brown. Afterward, transfer to a paper towel-lined plate to drain.
If you are cutting back on unhealthy fat, you can bake the falafel in the oven (375F) for 25–30mins, remembering to flip them halfway through the baking. If using an air fryer, flatten the balls into discs so they cook evenly.
Serve while hot with your favorite salad or as a side dish with hummus.
How Do You Fry Falafel Without It Falling Apart?
It may be tricky for beginner falafel makers to cook them without the balls falling apart while frying. Some people prefer to buy the already packaged falafel mixes that only need shaping and frying. But, it's better to make your own from the beginning to incorporate your preferred flavors. Some reasons your falafel may break apart while frying include:
Poor consistency that crumbles as you shape: Add a binding agent, such as flour, until you can easily shape the mixture.
Little to no resting time in the refrigerator: Put the already shaped falafel in the fridge for at least 30 mins to an hour before frying them.
Crowding them while frying: Cook the balls in small batches to prevent them from bumping into each other when frying.
Over pulsing the mixture: Pulse the mixture sparingly to a coarse texture.
Roughly shaped falafel balls: The falafel balls should not have big cracks to prevent oil from getting into the inner section, causing them to separate.
As you learn how to make the perfect falafel, you can enjoy finger-licking falafel at a vegetarian restaurant in Manhattan. Nish Nush has mastered the art of preparing falafel seasoned to perfection. Visit our restaurant and enjoy authentic Mediterranean cuisine.