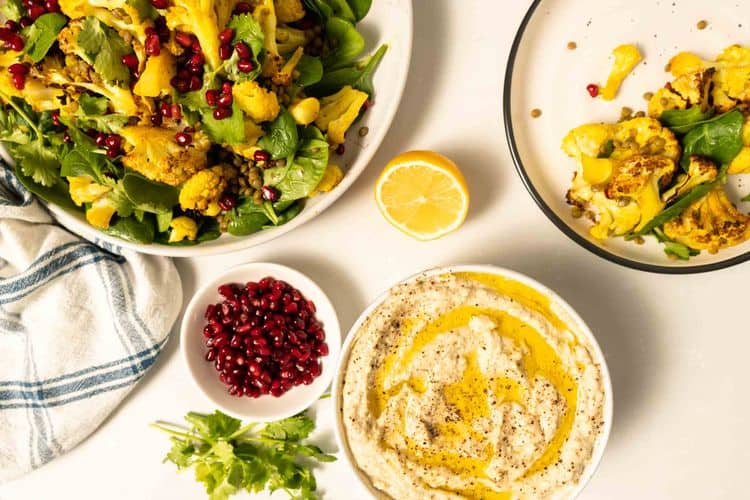 Baba ganoush is a nostalgic Mediterranean dip that outsiders are slowly discovering. It's the creamier sister to hummus and mainly served as an appetizer. Baba ganoush is made with grilled or roasted eggplant instead of the chickpeas used in hummus.
Pita bread, cucumber slices, bell pepper strips and carrot sticks are some healthy bites that go well with baba ganoush. It's one of the staples of vegetarian Mediterranean food.
The basic baba ganoush can come together in any kitchen. Aside from the eggplant, you'll need tahini, garlic, olive oil, salt and a pinch of chopped parsley to garnish.
You can use a grill, a gas stovetop or your regular oven to grill or roast the eggplant. When ready, place a dipping bowl, lightly smooth the top with a spoon, and then garnish with the chopped parsley and a drizzle of olive oil.
Why is It Called Baba Ganoush?
For middle easterners, baba ganoush is a feel-good food for when you want to pamper yourself. Baba means father and is an endearing title, while ganoush means spoiled. The phrase, therefore, means 'spoiled dad.' So it's called baba ganoush because it pampers you making you feel special.
As the name suggests, you can spoil your family with this starter before serving dinner. The flavors, the presentation, and the nutrients of baba ganoush give you a high-end restaurant experience.
What Does Baba Ganoush Taste Like?
Grilled eggplant and (sometimes) grilled garlic give baba ganoush a mostly smoky flavor. The tahini, garlic, salt, lemon juice and parsley also add a compound of flavors giving it a rich taste.
Some Lebanese restaurants garnish with toasted pine nuts or smoked paprika powder, contributing to varied tastes. Adjust the amount of lemon juice to cater to your taste.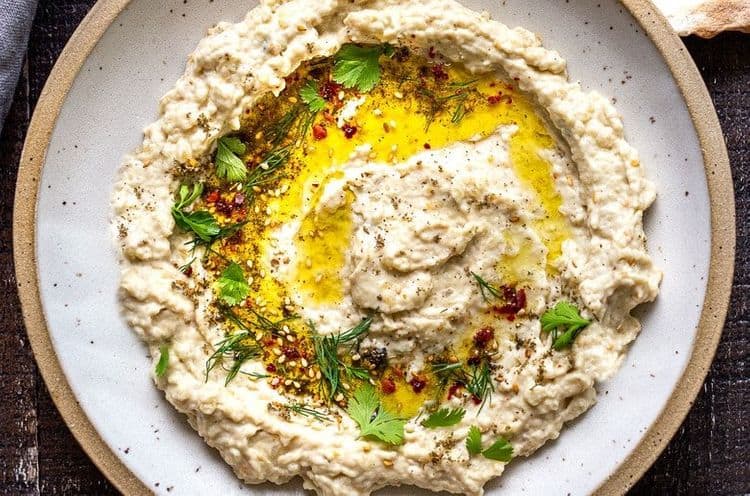 How to Make Baba Ganoush
Making baba ganoush is easy. You only need the most basic cooking equipment. We'll share how to make baba ganoush with grilled or oven-roasted eggplant. In the end, we'll share some helpful notes so that you can make the perfect baba ganoush on your first try.
Baba Ganoush Recipe
Ingredients
2 medium-sized eggplants
2 cloves garlic (minced)
2 tablespoons lemon juice
2-3 tablespoons tahini paste
Salt to taste
1 tablespoon chopped flat-leaf parsley
2 tablespoons extra virgin olive oil
Method
Grill eggplants (turning every so often with a pair of tongs) until soft on all sides. Allow to cool enough to touch.
You can either peel the eggplant and then chop it into smaller pieces or cut it into halves and then scoop with a spoon.
Place on a colander to let the liquids drain. Press down with a spoon to remove even more liquid.
Transfer to a mixing bowl, and add the olive oil, tahini, lemon juice and salt.
Using a fork, mash and mix until you get a smooth but chunky texture.
Cover with a cling film and allow to cool or chill in the fridge for an hour.
Serve with pita bread or vegetables of your choice.
Notes
Place the eggplant directly on the burner if you're using a gas burner. Keep turning until it is charred all around. The rest of the procedure is the same as above.
Use small to medium size eggplants because these have fewer seeds than the larger sizes.
Don't skip the draining step to prevent your baba ganoush from being runny.
Overripe eggplants are usually bitter, so our recipe uses fresh, hard eggplants.
Some FAQs About Baba Ganoush
Do I need a blender or a food processor to make baba ganoush? No. The authentic baba ganoush has some texture achieved by mashing with a good old fork. However, if you prefer yours super smooth, feel free to use a blender or food processor.
Can I roast the eggplant in my regular oven? Yes. The flavor will be less smoky, but an oven works just fine. To roast the eggplant, cut into halves and place on a lightly oiled roasting pan with the cut side facing down. Preheat the oven to 450 degrees and roast for about 40 minutes until they start to shrink.
Do middle easterners use Greek yogurt in their baba ganoush? Congratulations, you have discovered the secret ingredient. The Greek yogurt thickens the dip and enhances its color. Of course, if you're on a special diet, you can omit the yogurt to make vegan baba ganoush without compromising the taste.
How healthy is baba ganoush? When it comes to healthy foods, less is more. The same is true for baba ganoush. Eggplant (which is the heart of the dish) is rich in vitamin B and E. It also has low in carbohydrates and high in fiber.
At Nish Nush, we make the most authentic baba ganoush that will leave you wanting more.