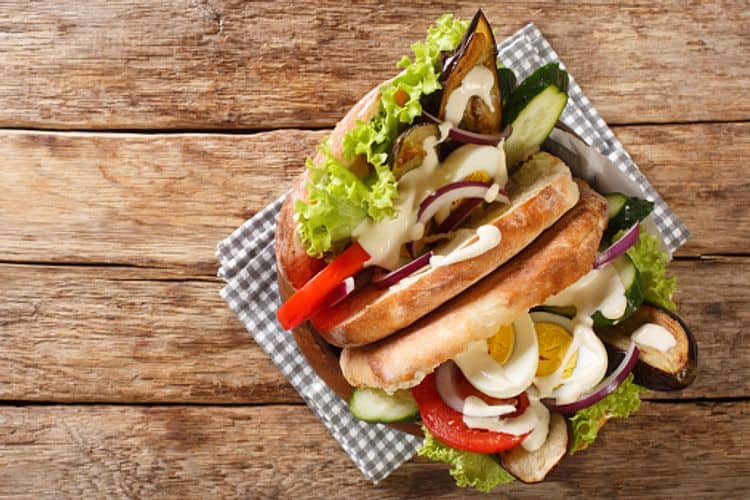 Sabich is how to experience Israel's lively, aromatic streets in your home. When made with authentic Israeli ingredients, it's the easiest way to experience diversity without traveling. There's no stopping from the first bite until all that's left in your hands are the crumbs.
Even though falafel is more famous, the sabich sandwich has gained its bragging rights in the vegetarian cuisine world. It's yummy, easy to make, and healthy. You only need a few ingredients that you can keep on hand in your fridge and pantry.
What is Sabich?
Sabich is a sandwich made by filling pita bread with hummus, fried eggplant, hard-boiled eggs, pickled cabbage or lettuce and salad. Finish it up by drizzling with tahini and amba sauce.
The sandwich originated from Iraq, but has found fame in Tel Aviv restaurants and streets owing to the Jews who moved back to Israel from Iraq. Although the dish is mainly served at breakfast, you can enjoy it any time of day.
The classic sabich sandwich is vegetarian, so it takes just a little tweaking to make it vegan if you desire. Pass on the hard-boiled eggs. You can use vegan sour cream for extra creaminess.
Sabich Recipe
Sabich is one of the easier vegetarian sandwiches to make. All the ingredients can be prepared before time for a quick filling breakfast when you are pressed for time.
You may use store-bought ingredients, but homemade ingredients are the best. This recipe teaches you how to make most of your ingredients from scratch.
Ingredients
Pita bread
Tomatoes
Cucumber
Parsley
Eggplant
Onions
Amba sauce
Tahini sauce
Hummus
Salt and pepper
Olive oil or vegetable oil for frying
Hard-boiled organic eggs
Boiled potatoes (optional)
Pickled red cabbage
Beets (optional)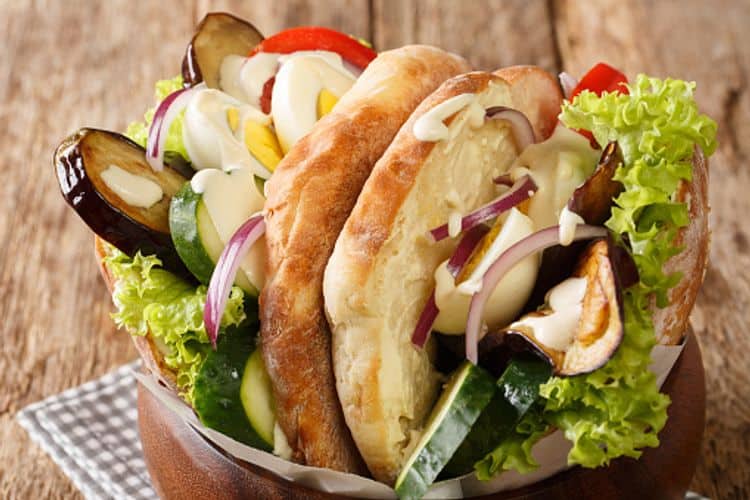 Preparation
Salad
Dice tomatoes and (it's best to drain the liquid in a strainer)
Cut the cucumber into cubes
Cut onions into medium strips
Mix in a large bowl
Season with salt and pepper and mix some more
Set aside
Hard-Boiled Eggs
Place the eggs into boiling water
Let boil for 6-8 minutes
Remove and place in a bowl of cold water
Peel, dice and set aside
Eggplant
Cut into ½ inch slices (round or rectangular)
Set on a tray and sprinkle with salt on both sides to draw out the water
Leave for 20 minutes and then dry with paper towels on both sides
In a hot pan, pour a thin layer of oil
Place the eggplant slices and fry over low to medium heat, turning until golden brown on both sides
Salt lightly and set aside.
Potatoes
Peel and slice one or two medium-size potatoes into ½ inch slices
Drop into a pot of boiling water and cook for 10 minutes
Salt to taste
Drain the water and set aside
Pickled Red Cabbage
Chop finely
Place in a glass jar
Add a mixture of water, vinegar and salt
Let rest for at least ten hours. You can let it pickle for up to a week.
Note: You need to pickle your cabbage days before using it in your sabich.
Beets
Peel and chop your beets into small strips.
You can grate if you like.
Depending on your taste, you can use fresh or pickled beets.
Pita Bread
Make your fresh bread at home or buy it from the grocery store. To make pita bread:
In a bowl, activate yeast with half a teaspoon of sugar
Pour whole grain flour into the bowl (desired amount)
Add water and oil
Mix the dough until you get to pita bread consistency
Cover and set aside to rise
Divide into medium size chunks
Dust the rolling board with flour
Roll into round shapes
Place on a pan over low to medium heat
Cook until slightly golden brown on both sides
Set aside
Note: If you're using store-bought pita bread, warm it in for a few seconds on the skillet to make opening the pocket easier.
Hummus
You need:
Soft boiled chickpeas
Tahini (sesame seed paste)
Lemon juice
Minced garlic and cumin (optional)
Fine sea salt
How to make hummus:
Boil chickpeas until soft
In a blender bowl, add the lemon juice, garlic, salt, and cumin
Blend to mix and let sit for 10 minutes
Add the tahini and blend until smooth
Add the boiled chickpeas and blend while adding ice water one tablespoon at a time until creamy
Put in a serving dish and set aside
Assembling/Serving
Cut one edge of the pita bread to open
Spread a layer of hummus on the inside of the pocket
Add a few pieces of fried eggplant
Add in the salad
Layer the chopped hard-boiled eggs
Add boiled potatoes
Add in your pickled cabbage and beets
More salad
Drizzle with tahini sauce & amba sauce
Your sabich sandwich is ready. You can use as much of the filling as you like.
A sabich sandwich is an excellent substitute in place of regular meat-based sandwiches. You can make your own or order one freshly made from Nish Nush. When you're in the mood for royalty treatment, drop in and choose your variation of this delicious beauty. We'll make it your way.