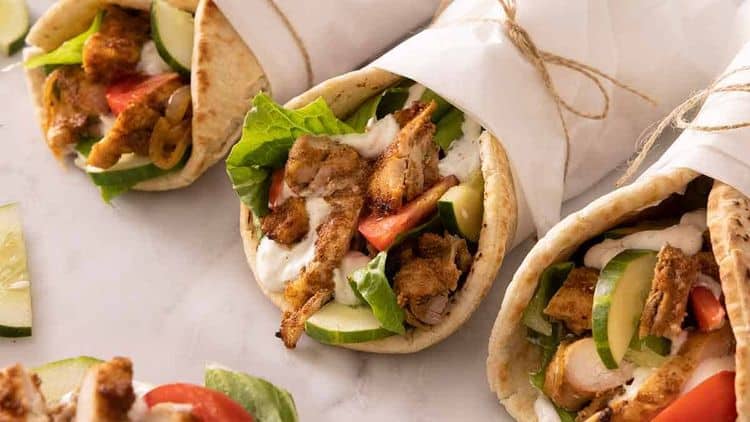 Shawarma is a popular dish found throughout the Mediterranean and Middle East. Traditionally, shawarma consists of sliced meat roasted on a slow-turning rotisserie and then shaved into thin pieces.
In recent years, vegetarian shawarma has increased in popularity. Made from various fresh or roasted vegetables and legumes, veg shawarma packs just as much flavor as its traditional meat counterpart.
Vegetarian Shawarma
Vegetarian shawarma can be made from just about any combination of vegetables. The most important part of preparing veg shawarma that stays true to its Mediterranean roots is getting the spices right.
Shawarma is typically spiced with ingredients like cinnamon, cardamom, turmeric, coriander and ginger. This traditional spice mix gives the shawarma the warm flavor profile it's known for. Fresh herbs like cilantro or parsley can be added at the end to brighten up the dish.
Vegetarian shawarma filling can be made from hearty ingredients like chickpeas, mushrooms, roasted mixed vegetables, or soy-based products. If they're spiced correctly, you won't even miss the meat in this dish.
Another star of vegetarian shawarma is the sauce. Shawarma usually comes slathered in your choice of garlic shawarma sauce, hummus, tzatziki sauce, tahini or a combination.
Veg Shawarma Recipe
To get started, choose how you want to serve your shawarma. Generally, veg shawarma is served as part of a platter alongside other Mediterranean and Middle Eastern staples like tabbouleh, fattoush salad, bread, tomato, cucumber and various sauces. You can incorporate your shawarma into a pita or another Mediterranean bread, like laffa or shrak, with similar ingredients if you like.
Next, choose which vegetables you want to serve as your shawarma base. Starchy or protein-dense ingredients like sweet potatoes, chickpeas, soy curls or even tofu are great options. Remember that ingredients like chickpeas and tofu don't have much flavor themselves, so you'll need to spice them generously for the most delicious vegetarian shawarma. Shawarma seasoning is easy to make at home with ingredients you can find in most grocery stores.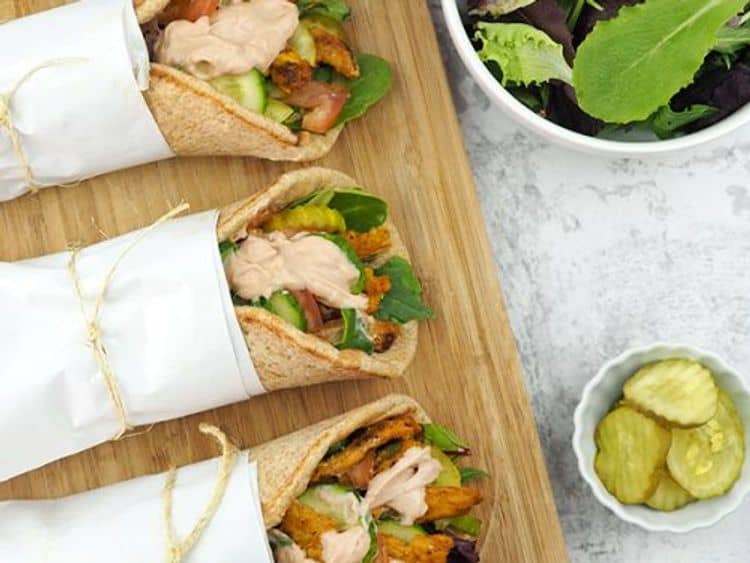 Shawarma Spice Blend Recipe
Ingredients
1/4 cup ground black pepper
1/4 cup ground allspice
1/4 cup garlic powder
2 tablespoons ground cloves
2 tablespoons ground cinnamon
2 tablespoons ground nutmeg
2 tablespoons ground cardamom
1 tablespoon chili powder
1 tablespoon dried oregano
1 tablespoon salt
Mix all the ingredients together in a bowl or plastic bag. Store the spice mixture in an airtight container in a cool, dry place. The mix should stay fresh for about six months, although you'll probably use it up faster.
To marinate your shawarma base, coat your ingredient of choice with 1 tablespoon of seasoning and 2 tablespoons of olive oil. Depending on which ingredient you chose as your base, you can roast it in the oven or pan-fry on medium-high heat.
Next, choose which toppings you want for your vegetarian shawarma. Lettuce, tomatoes, pickled onions and roasted vegetables all make great additions to shawarma.
Aside from the shawarma itself, the other star of the dish will be the sauce you choose to dress it with. You can add homemade or store-bought hummus or tzatziki, but we suggest making your own shawarma sauce to keep things authentic.
Shawarma Sauce Recipe
Ingredients
1 cup Greek yogurt (full fat is best)
2 tablespoons lemon juice, freshly squeezed
2 tablespoons tahini
6 medium cloves garlic, minced or pressed
3 tablespoons fresh dill, finely chopped
10 fresh medium mint leaves, finely chopped
1/2 teaspoon sea salt (season to taste)
In a medium-sized bowl, combine all of your ingredients. Transfer the sauce to an airtight container and store it in the refrigerator for up to two weeks.
Once your shawarma is cooked and your toppings are prepped, load everything in a pita or assemble your ingredients platter-style and enjoy!
Vegan Shawarma
Veg shawarma can easily be made vegan for those who prefer to forego animal products. As part of Nish Nush's Mediterranean platter menu, we make our vegan shawarma using a soybean shawarma packed with traditional spices and flavors.
We then top it with sautéed cherry tomatoes, onions, harissa, amba and tahini and serve it on traditional laffa bread. Try it at one of our two NYC locations today!