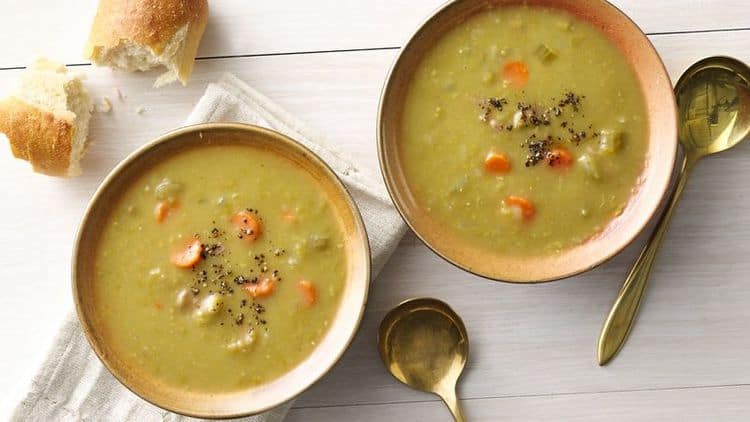 Whether you prefer it to be chunky or silky smooth, vegetarian split pea soup is guaranteed to warm you up from inside out. It's the true definition of a healthy, hearty, and comforting meal.
Cold winter mornings and rainy spring days are instantly warmer with a bowl of split pea soup. More than just warmth, split pea soup is packed with fiber and healthy carbs to improve the health of your digestive system.
This soup easily aligns with your dietary needs if you're on a vegetarian diet. The take on the classic split pea recipe contains all plant-based ingredients:
Onions
Carrots
Celery
Herbs
Split peas
Water/vegetable broth
Salt and pepper
There's not too much thinking out of the box trying to find substitutes. The split pea soup is equally vegan-friendly. You can easily make yourself and your family this delicious vegetarian soup in a few simple steps.
Vegan Split Pea Soup
If you're vegan, there are a few alterations you can make to enjoy this dish. For instance, you can garnish the soup with gelatin-free vegan sour cream.
Split pea soup is a quick, nutrient-packed vegan meal for all seasons.
There are no major differences between the vegetarian and the vegan versions of this soup. However, you may want to experience a difference by playing around with toppings of your choice.
While lacto-vegetarians may use the regular gelatin-free sour cream for garnishing, a vegan diet is more strict. Always make sure the sour cream you're using is vegan, or you can make your vegan sour cream at home.
Here's a simple stovetop classic vegetarian split pea soup recipe.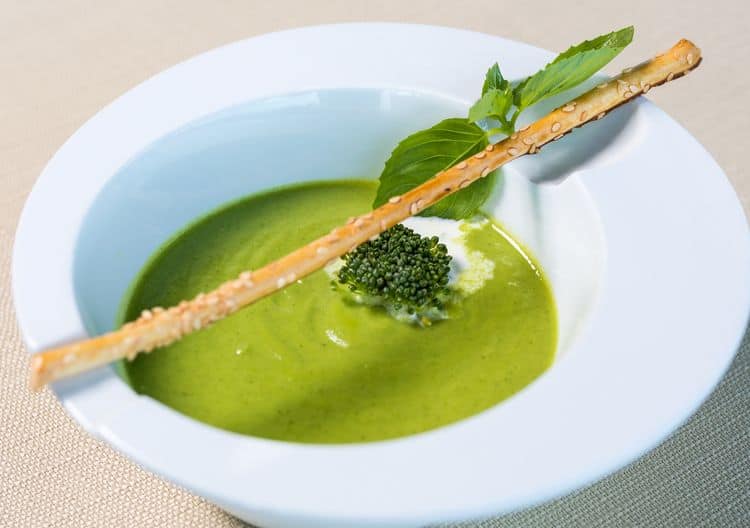 Vegetarian Split Pea Soup Recipe
Restaurants like Nish Nush make healthy versions of this soup. You can make yours with this simple recipe.
Ingredients
1 pound green split peas
2 large carrots
2 medium celery sticks
2-3 cloves garlic
1 large onion (any color)
1 tablespoon herbes de Provence (thyme, rosemary, savory, marjoram & oregano)
2 bay leaves
4-6 cups vegetable broth or water
2 tablespoons olive oil (optional)
Salt and pepper to taste
How to Make Vegetarian Split Pea Soup
Pick over and wash the split peas
Peel or thoroughly scrub the carrots and then dice into small cubes
Chop the celery
Mince garlic
Peel and chop onions into tiny cubes
Procedure
The longest part of the procedure is waiting for the soup to cook. With ingredients on hand, the maximum hands-on time is 10 minutes.
Pour the olive oil into a large cooking pot.
Heat the pot and then add the vegetables and herbs and saute for 5 minutes.
Add the split peas into the pot.
Drop in the bay leaves and any spice you'd like (Some people like to add a drop or two of liquid smoke or vinegar).
Add salt and pepper.
Pour in the vegetable broth or water and stir.
Cover and turn the heat to high.
Bring to a simmer.
Lower the heat to medium and let cook for 40-45 minutes.
Stir to mix everything. If the soup is too thick for your liking, you may add a cup or two of water.
(Optional) Use a hand-held blender to achieve your desired chunkiness. You can either spot-blend a few sections or blend the whole lot if you want your soup creamy.
Vegetarian or vegan split pea soup can be served on its own as an appetizer, but you can play around with exciting variations. For example, it's delicious over rice.
A Few Tips
If you want your soup WFPBNO (Whole Foods, Plant-Based, No Oil), skip the sauté step. Instead, add a few tablespoons of water with the vegetables. Sweat the vegetables over low heat to soften and release the flavors.
Remember to remove the bay leaves before serving.
You can also make the soup in a slow cooker or instant pot. Place all the ingredients into the slow cooker and pour the liquids last to avoid spills. Cover and let cook for 5-6 hours.
If you're using an instant pot, you may sauté the vegetables using the pot's sauté function. One sautéed to your liking, cancel and then add the peas & liquids, salt & pepper and any other spices you like. Cover and set to high pressure. Cook for between 5-15 minutes to achieve your desired level of chunkiness.
You may need a tad more spices for the instant pot version, as the quick cooking time doesn't allow the flavors to come out fully.
Benefits of Vegetarian Split Pea Soup
There's so much goodness in a bowl of split pea soup.
Gluten-free. Split peas (green or yellow) do not contain gluten and are great for celiacs. Remember to for uncontaminated brands.
The peas are high in fiber which improves the digestive system and regulates blood sugar.
Soluble fiber helps reduce cholesterol levels.
High in unprocessed carbs to improve your energy levels
High in protein
The vegetables and herbs improve taste and are nutritious.
If you're a little cold and looking for a nutritious way to heat things up, step into Nish Nush Tribeca or FiDi NYC for a bowl of vegan split pea soup. Or you can order online and Nish Nush will conveniently deliver your soup to your doorstep.