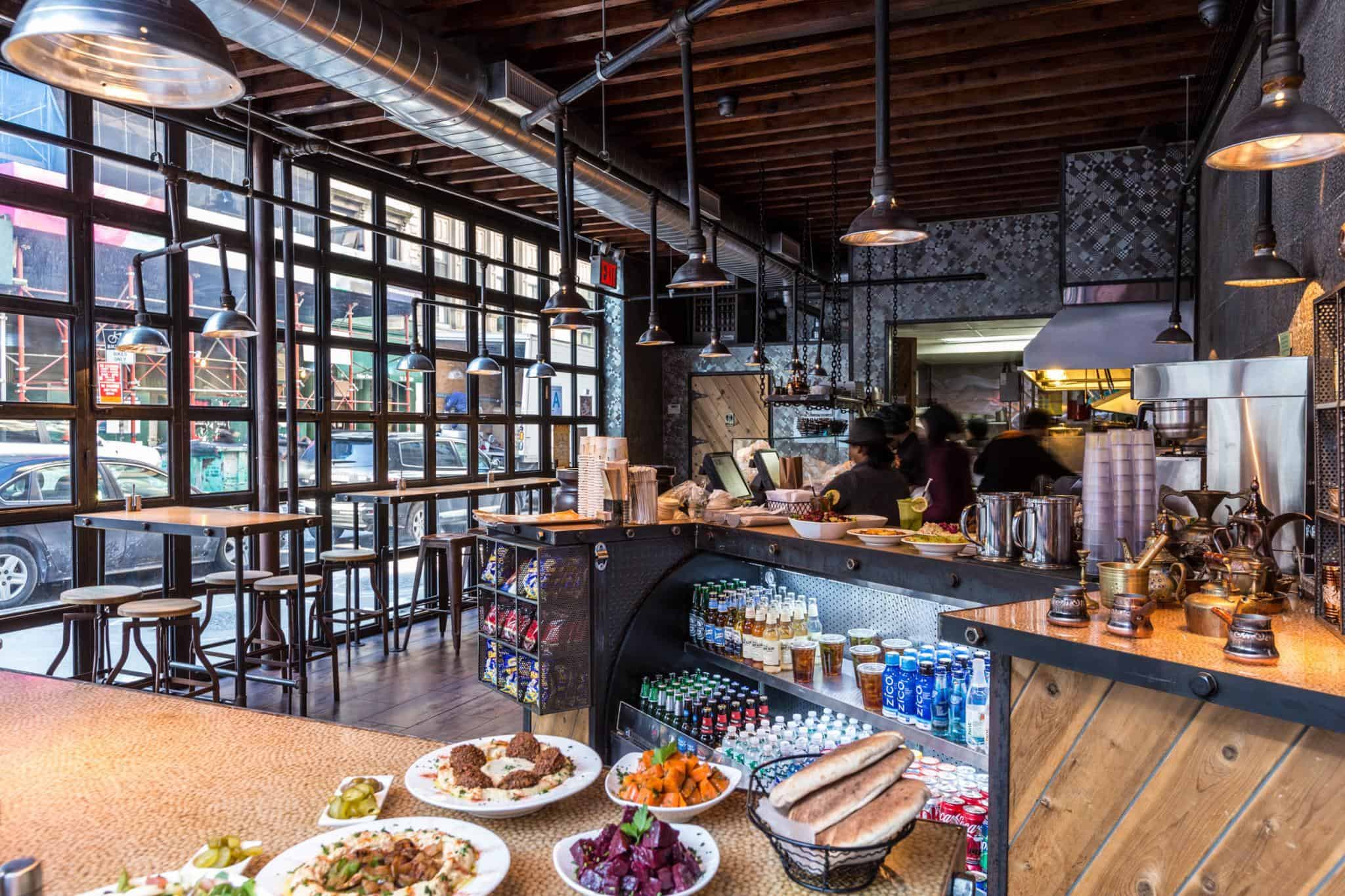 Never Ending Mediterranean Flavors at Nish Nush in NYC
Crispy falafel, creamy feta, and sticky but sweet baklava – there is nothing better than the taste of Mediterranean cuisine. Mediterranean food has been around for centuries and, much like its most iconic ingredients, it has a rich history. The cuisine encompasses the best of Greek, Italian, and even Middle Eastern diets. It delivers dishes that are both delicious and good for your health. When ordering from a Mediterranean menu, expect the freshest vegetables, perfectly grilled meat, and delectable dips.
At Nish Nush, our menu makes the most of these famous Eastern Mediterranean flavors, from the finest flavored halva to scrumptious sabich sandwiches, not to mention our tantalizing tabouli and tzatziki. There are also plenty of vegan and vegetarian options at our NYC Mediterranean restaurants, conveniently located in Tribeca and the Manhattan Financial District.
Be Transported by Authentic Mediterranean Ambiance
From the moment you step through our doors, you'll feel as though you've been whisked away from the hustle and bustle of New York. The white wooden panels that crisscross our exterior allow in plenty of natural light, evoking sun-soaked Greece or Israel. Our passion for the most iconic ingredients of the Mediterranean region is reflected in subtle touches. Look under the glass tops of our tables – those are real dried chickpeas, creating a unique rustic effect that's the perfect background for your Mediterranean meal.
Take a seat and wander through our mouth-watering menu. While deciding which Mediterranean delight to sample today, you can quench your thirst on a Gold Star Heineken, Brooklyn Lager Corona, or even a glass of Blue Moon Wine. After all, what's a trip to the Med without a refreshing drink or two?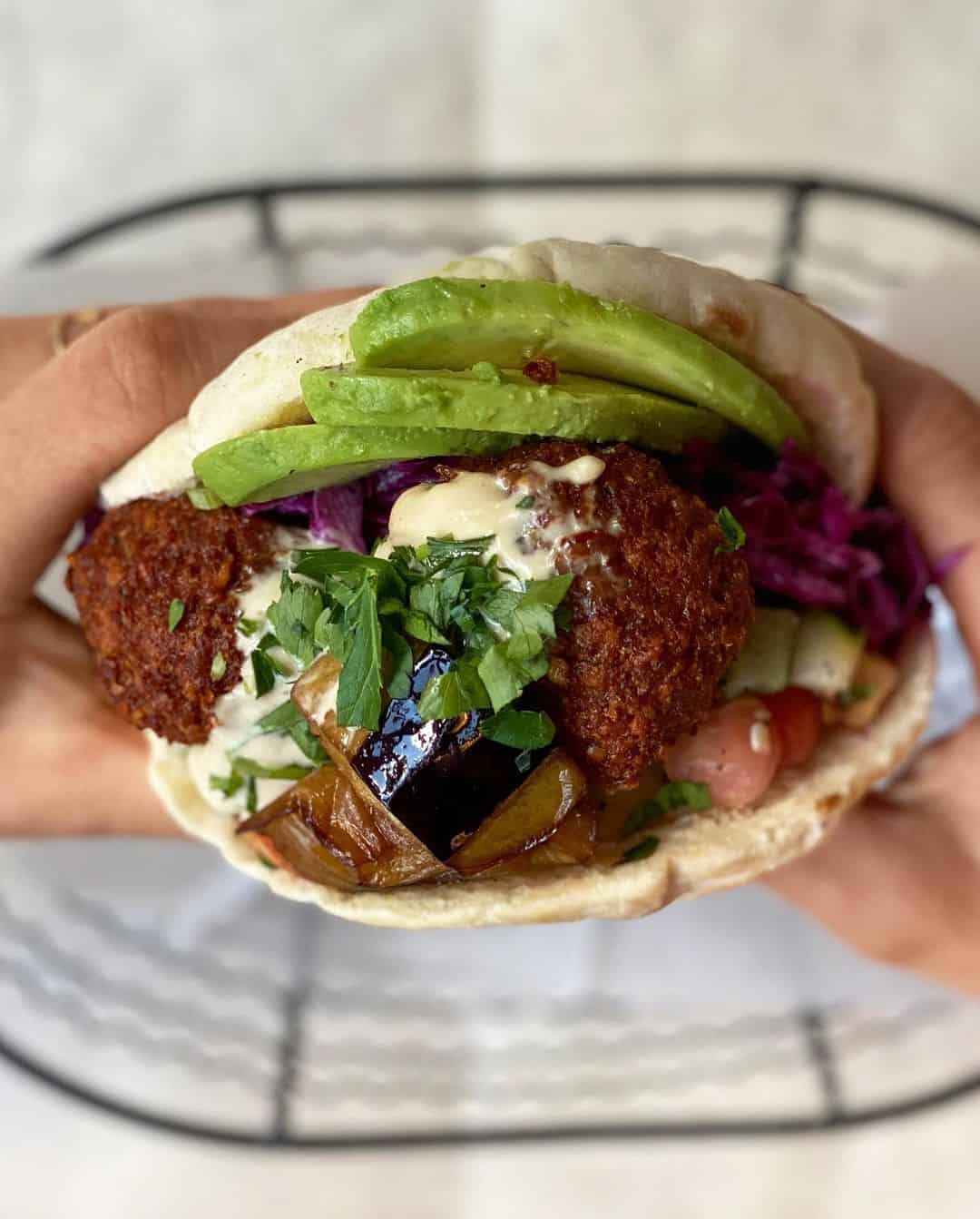 Modern Mediterranean That Embraces Tradition
While our menu is packed with the best of modern Mediterranean flavors, we also celebrate our heritage with more traditional dishes, bringing ancient favorites to the bustling streets of Manhattan. Using age-old recipes and fresh, locally sourced ingredients, our classic baba ghanoush, matbucha, and shakshuka will leave you salivating, making our NYC Mediterranean restaurant a must-visit for food lovers in NYC.
In addition to our fantastic vegan-friendly options, we also have many gluten-free choices for you. Falafel is known for being a gluten-free favorite, and the rest of the options follow suit, making it easy for everyone around the table to feel included. From the labneh to our Chili Kale Salad, nobody will feel like they had to settle for second best. You can wash it down with our refreshing homemade lemonades and iced teas or go traditional with some delicious strong Turkish coffee.
Homemade Hummus Meets Fantastic Falafel
Zesty lemon, creamy chickpeas, and tangy tahini, it's easy to see why hummus has been around for centuries. Popular throughout the Mediterranean and the Middle East, the spread has become a global favorite. It's rich in health benefits and pairs effortlessly with everything from your favorite fresh veggies to crispy chips. 
The carefully curated combination of olive oil, garlic, lemon, tahini, and chickpeas gives the spread the nutty flavor and thick, creamy texture it's so renowned for. As the base of so many sandwiches and other dishes, it's probably the most iconic flavor of the region. Try it with our fried eggplant, a fresh, hot pita, or some of our famous falafel.
Savor Some Traditional Crispy Falafel
It's not hard to figure out why falafel has become a phenomenon. Much like the hummus it pairs so well with, it has been around since Ancient Egypt. It's stood the test of time thanks to its soft texture, taste, and sheer versatility. It's also equally good at supporting a sandwich in its iconic pocket and mopping up the last delicious morsels of a meal. 

Our three falafel flavors all deliver a delightful crunch with every bite. You can savor it in a sandwich, a salad, or alongside the best Mediterranean spreads and maza plates. You'll never regret taking a bite of the traditional falafel, but at Nish Nush, you can get a little more adventurous with our roasted pepper or chili falafel. Go on, treat your taste buds!
A Must-Visit Mediterranean Restaurant in New York
It's not hard to find the best Mediterranean restaurant in NYC – just head to one of our restaurants. You can find us in the heart of Manhattan, with locations in the Financial District and Tribeca. Traditional methods combined with fresh, authentic ingredients make the Nish Nush experience unlike anything else in the city. 
Whether you're in a rush and want to grab some baba ghanoush to go, or you want to linger over a glass of wine, we're conveniently located and ready to leave you satisfied. Local or tourist, Nish Nush is a must-try for your favorite authentic, yet contemporary Mediterranean cuisine.