In Hungary, the locals call it a shifka pepper while the rest of the world calls it a Bulgarian carrot pepper because of its origin and its remarkable resemblance to a carrot. Some people call them "Hot Carrots" as well.
Shifkas are an ancient heirloom variety that originated in Bulgaria. History records that Bulgarian carrot chile peppers originate from Bulgaria, along the Black Sea, in southeastern Europe, north of Turkey and east of Greece.
They smuggled these peppers out of Eastern Europe around the late 1980s. Until some time before the 1980s, the pepper remained confined to Bulgaria and Hungary and later found its way into Europe and North America. Commercially, the Bulgarian carrot pepper is no longer available. Still, it is available through online catalogs and small farms that grow the variety for local farmers' markets in Europe, Asia & the United States.
Besides providing vitamin C, beta-carotene & vitamin A, Bulgarian carrot peppers also help reduce inflammation. Also found in these peppers are potassium, magnesium, iron & a chemical known as capsaicin, which gives the pepper its spicy flavor. It makes an excellent appetizer, or you can serve it with shawarma, falafel, hummus or any of your favorite Middle Eastern dishes!
Shifka Pepper Flavor Profile
Bulgarian carrot chile peppers are famous for their crispy texture and fruity, tangy, slightly sweet & moderately hot flavor with a lingering aftertaste. Shifka peppers are easy to love, and their unique carrot-like looks provide a lot of amazing beauty to your home landscape gardening. It may be tough to find, but once discovered, it just may become a staple for your kitchen & garden.
We can describe shifkas in three words: spicy, crispy and fruity. Among peppers, Bulgarian carrot chiles have a unique crunch that makes them stand out. These chiles are excellent for pickling and roasting because of their crunchy skin.
Because of their fruitiness and bright orange color, these chiles are ideal for sauces, salsas & and chutneys. You still get the sweetness of chiles higher on the Scoville scale like habaneros and scotch bonnet peppers, without the sweat. Not as much sweat anyway, but these chiles are still hot.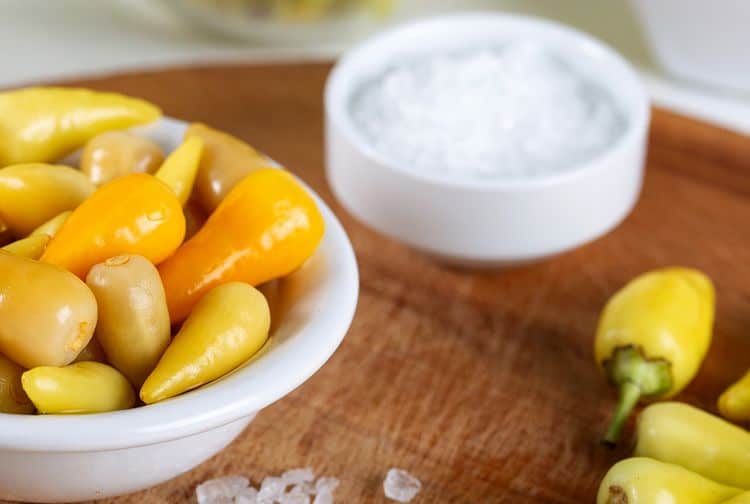 Common Vegetarian Food That Uses Shifka Peppers
The Bulgarian carrot pepper is best suited for raw and cooked applications, such as roasting, stir-frying, and grilling. These chili peppers have a crunchy texture and are a perfect mix in dishes that showcase the crunch. You can chop shifka peppers and add them to salsas, sauces & chutneys or you can toss them into salads.
Hummus is also a good place to use shifka peppers as a topping, as we do on our hummus masabacha platter. That's because of the contrast between the flavor of the chile and the smoothness of the hummus.
Other popular uses for these peppers include pizza toppings grilled and served with barbecued meat, baked into bread, and stir-fried with other vegetables. Apart from cooked applications, the heat and crispness of Bulgarian carrot chile peppers make them an ideal pickling ingredient.
Shifka peppers pair well with broccoli, cauliflower, snap peas, bell peppers, corn, onions, garlic, beans, rice & quinoa. In the refrigerator, you can store unwashed peppers loosely wrapped in plastic for up to one week.
The crunchy flesh of the shifkas makes them incredible for roasting and it tastes amazing in marinades, chutneys & salsas. Its color also adds a distinctive appearance to everything it touches.
Here are some ideas for Shifka pepper recipes!
How About a Bulgarian Carrot Pepper Bread?
Nothing complements a hot soup, makes the most of spaghetti sauce, or holds together a sandwich like a good loaf of bread. Let this recipe leave your mouth watering and your belly full!
Ingredients:
8 oz cream cheese, softened
2 large eggs
Mozzarella cheese, 4 cups
2-4 Bulgarian carrot peppers
2 cups almond flour
2 tbsp baking powder, aluminum-free
Is Bulgarian Carrot Pepper Salsa on the Menu?
We love salsas because we can dip chips, dress up our eggs, or add a kick to our baked chicken. Check out this recipe.
Ingredients:
2 14.5-oz can diced tomatoes, no salt
1 cup chopped cilantro, lightly packed
1 cup diced onion, 1 cup
4 minced garlic cloves
1 Bulgarian carrot pepper
Half a lime
1.5 teaspoons sea salt
While these chiles are popular with growers, finding them at your local supermarket may be difficult. Look for them at farmer's markets. If you are handy with a garden, you can grow them yourself. You can find shifka pepper seeds online, and these plants thrive in containers as well. Visit us for a taste of this unique pepper.